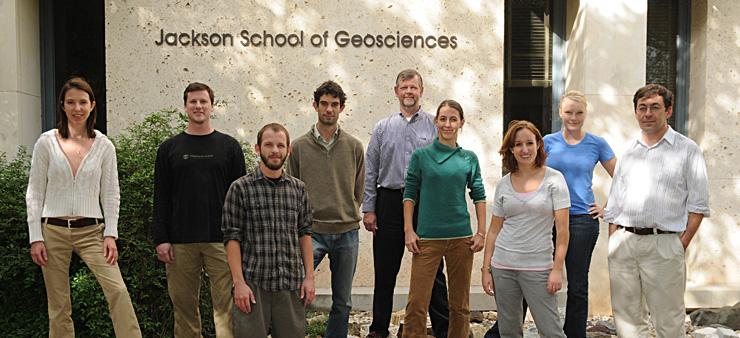 People (left to right): Jaime Barnes, Judd Partin, Chris Maupin, Dan Breecker,
Terry Quinn, Kelly Hereid, Meaghan Gorman, Tim Shanahan

About the Lab
The Center for Stable Isotope Mass Spectrometry in the Jackson School of Geosciences at the University of Texas at Austin is a state of the art, multi-user facility dedicated to the application of stable isotope geochemistry to the solution of diverse problems in the Earth Sciences. The center is co-directed by Terry Quinn, Dan Breecker, Jaime Barnes and Tim Shanahan. More information on the laboratory can be found by following the links above.


Expertise
Our combined laboratories specialize in a variety of new and conventional approaches to stable isotope analysis of geological and biological materials. If you are interested in having any of these analysis performed in our facility, please see the Services tab above.


Oxygen and carbon isotope analysis of carbonates (Quinn)
Hydrogen and oxygen isotope analysis of waters (Quinn)
Clumped isotope analysis of carbonates (Quinn)
Carbon and nitrogen isotope analysis of bulk material and organics (Shanahan)
Compound specific carbon and hydrogen isotope analysis (Shanahan)
Stable isotope analysis of small quantities of CO2, N2O and CH4 in gas mixtures (Breecker)