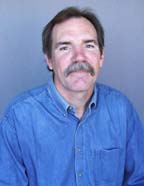 Faculty Research
email: Mark Helper

Dr. Mark Helper

Dr. Helper received a Ph.D. in geology from the University of Texas at Austin and a B.S. in geology from the University of Illinois. As a Distinguished Senior Lecturer, his main duties are teaching-related. He teaches undergraduate courses in Field Geology, GIS and GPS Applications in the Earth Sciences, and Gems and Gem Minerals, and lectures and leads field trips for other undergraduate and graduate classes. His current research explores geochemical and Isotopic similarities of Proterozoic and Archean crust in East Antarctica and the southwestern U.S. As co-chair of FEAT (Field Exploration Analysis Team), Dr. Helper has recently become involved in geological field training of astronauts and allied activities, in preparation for NASA's return to manned space exploration beyond low earth orbit.

Research and/or Teaching Links:

GIS - custom geologic maps and figures, mostly in KLM or Adobe Acrobat, of central Texas localities and areas of research interest.