Facilities
Welcome to Isotope Geochemistry at The University of Texas at Austin. The Department of Geological Sciences has a wide-ranging program in many aspects of isotope geochemistry, including radiogenic and stable isotope geochemistry as well as U-Pb and U-Th series geochronology. Research programs in isotope geochemistry in the Department of Geological Sciences are integrated into a number of interdisciplinary areas such as igneous and metamorphic petrology, sedimentary geology, structure and tectonics, hydrogeology, mantle geochemistry, and economic and petroleum geology, marine sciences and climate change as well as archaeology, botany, and environmental studies. The purpose of this webpage is to provide information on the people, programs and facilities involved in isotope geochemistry at the University of Texas at Austin.
Inductively-Coupled Plasma Mass Spectrometry:
Thermal Ionization Mass Spectrometry:
Stable Isotope Ratio Mass Spectrometry:
Clean Labs and Sample Preparation: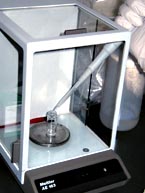 "Electronic scales are, for me, a no no." - Delia Smith
Within the Department of Geological Sciences there are three clean-room laboratories supplied with HEPA-filtered class 100 air where sample preparation and ion-exchange chromatography for isotopic analysis may be done under ultra-clean conditions, making possible very low analytical blanks (e.g., < 1 pg Pb for U-Pb geochronology, and <10 pg Sr). There are also two other laboratories with HEPA-filtered work stations where sample preparation and ion-exchange chromatography are performed. These labs are supported by the departmental sample preparation facility, which includes shatterboxes for sample pulverization, and a crusher, a disc mill pulverizer, a Rogers table, a Wilfly table, a mica table, sieves, heavy liquids and Franz magnetic separators for mineral separation.