Research Programs
Radiogenic Isotope Geochemistry

Radiogenic isotopes are widely employed both as tracers of geochemical processes as well as chronometers. Studies at the University of Texas at Austin involving radiogenic isotopes are diverse, involving projects in climate change and hydrology, diagenesis of carbonate and siliciclastic sediments, seawater evolution, petrogenesis of both basaltic and silicic magmatic systems from a variety of tectonic settings, evolution of the lithospheric mantle, tectonic development of crustal domains, formation of metallic and industrial mineral deposits and petroleum, geochemistry of metamorphic rocks, as well as the geochronology of igneous and metamorphic rocks and clays. For more information on U-Pb geochronology and U-Th series dating see the home pages of Daniel Stockli and Jay Banner, respectively.
Some current research projects:
- Paleo-ground water and surface water evolution in central Texas and Barbados, and its link to past climates (Banner, James)
- Hydrology of aquifers in central Texas, the midwestern United States and Barbados (James, Banner)
- Impacts of land use on stream water evolution (Banner)
- Mid-Cenozoic arc-related volcanism in the Sierra Madre Occidental of northern Mexico (McDowell)
- Formation of post-collisional magmatic rocks and associated ore deposits in western New Guinea (James)
- Understanding the role of crust and lithospheric mantle recycling in the generation of mantle chemical heterogeneity (Lassiter)
- Constraining the thermal and chemical evolution of the Earth's core and core/mantle boundary (Lassiter).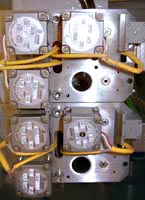 "It behaves at times in a most capricious and unaccountable manner...when by good fortune all is well the arrangement is capable of good performance."
- F. W. Aston, speaking of his Mass Spectrometer
The stable isotope ratios of light (H, C, O, N etc.) elements vary greatly in nature and we can use these variations to understand geological and biological processes. In particular, stable isotopes are potent tools for paleothermometry and climate change, fluid-rock interactions, tracing the hydrologic cycle, physiology, and ecosystem ecology. At the University of Texas at Austin, some of the research areas currently using stable isotopes are: groundwater and vadose zone hydrology, paleoclimatology, diagenesis, metamorphism, and ore genesis.
Some current research projects:
- Diagenesis of carbonate and siliciclastic sediments (Banner)
- Origin of authigenic clays during burial diagenesis (Long)
- Evolution of groundwater in Barbados, central Texas and midwestern US (Banner)
- Genesis of ore-bearing fluids in porphyry copper and sediment-hosted systems (Kyle)
- Climate variability as revealed by the geochemistry of marine sediments and coral reefs (Quinn)